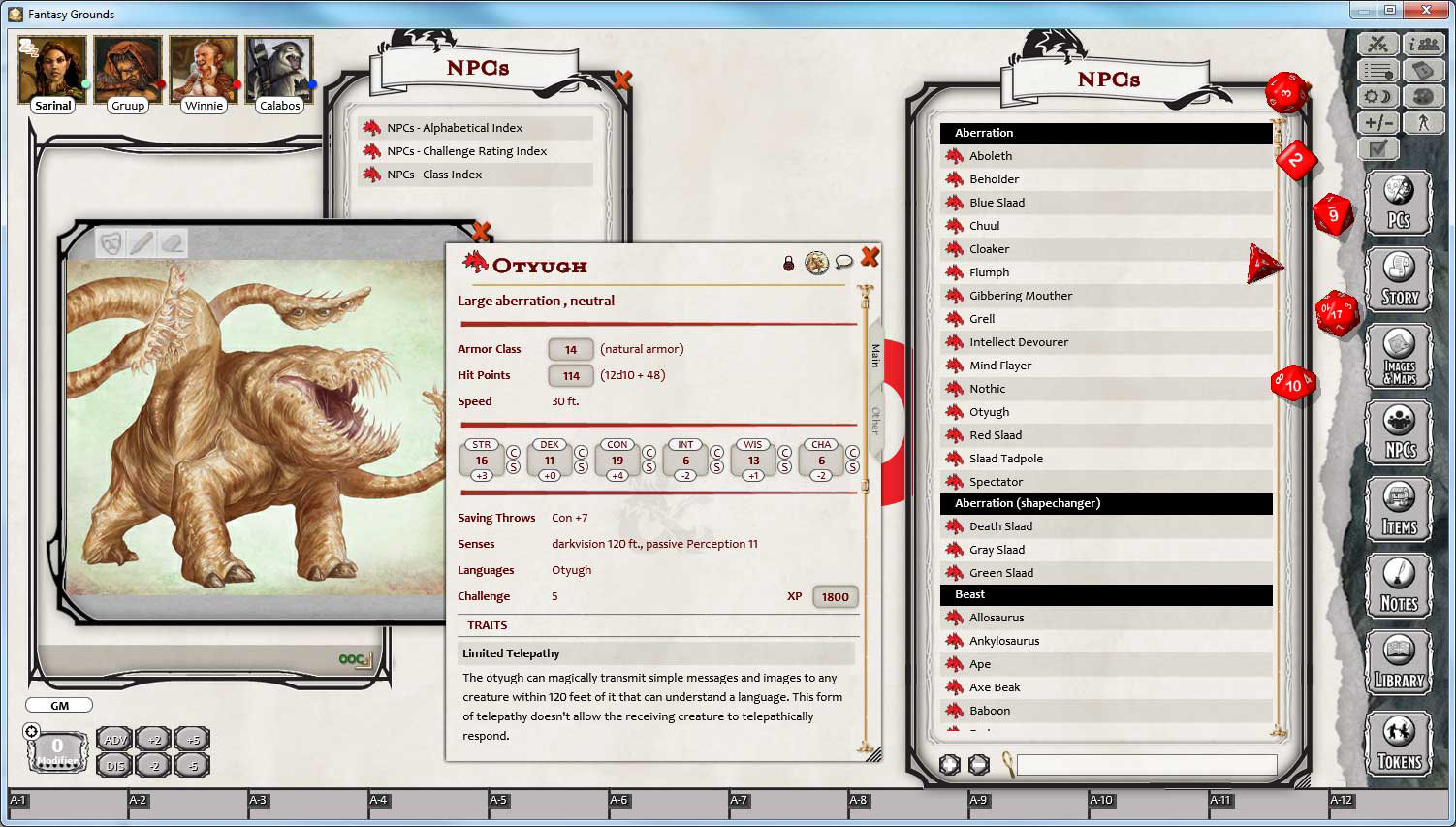 If you thought Black Friday deals were just for big screen TVs and trendy consumer electronics you probably don't need, think again: there's a pretty sweet sale going on for Dungeons & Dragons 5th Edition in both digital and dead-tree formats. 
Digital D&D 5E
Back in July, I reviewed virtual tabletop solution Fantasy Grounds, which is the first and only VTT to offer officially licensed Dungeons & Dragons 5th Edition content. I noted at the time that the steep cost would be a barrier for many players, but that the adventure modules were worth every penny. We've seen small discounts before, but never like this (note: Mundangerous receives no compensation from Fantasy Grounds.) To put it bluntly, I love Fantasy Grounds' D&D 5E content at the current price point.
Each of the required Fantasy Grounds licenses you'll need to get started are 25% off, bringing the lifetime Ultimate License to a rather more manageable $111.75. The 5E Player's Handbook and Monster Manual modules (Complete Core Class Pack and Complete Core Monster Pack, respectively) are marked down 40% to $29.99 during the sale. For dungeon masters, the big adventure modules such as Out of the Abyss and The Rise of Tiamat are $19.94 and the medium-sized adventures, such as Hoard of the Dragon Queen, are down to $14.99. Also, the brand new Sword Coast Adventurer's Guide module, which includes content for both DMs and players, is close to 30% off, at a very reasonable $28.39. My main criticism of Fantasy Grounds' D&D 5E content was its above-average cost to duplicate content you already own in the physical book form; in my opinion, these prices definitely justify the expense, especially for the juicy, time-saving DM content: the Complete Core Monster Pack and adventure modules.
If you've been on the fence, now is a great time to jump into Fantasy Grounds, either to find a new group online during the holidays, or to keep your existing group on schedule as everyone travels to be with family. And if you already own a Fantasy Grounds license, this is the best deal on D&D 5E content that we're liable to see, and all of the Savage Worlds, Pathfinder, Call of Cthulhu, and other content is also marked down.
Dead-Tree D&D 5E
Over in the physical format, Amazon is offering a broad 30% discount on any book, which includes all of the D&D 5E line, as well as many other RPG books. Simply use the code HOLIDAY30 at checkout. If you'd like to support Mundangerous with your holiday shopping, please use our Amazon Affiliate link, or one of the product links below:
Last week, in our review of the brand new D&D 5E Sword Coast Adventurer's Guide on the Total Party Thrill podcast, we recommended SCAG as a great supplement, but that the $40 MSRP was simply too high. If you've been on the fence, now would be a good time to pick up SCAG, as it's only $17.67 after discount.