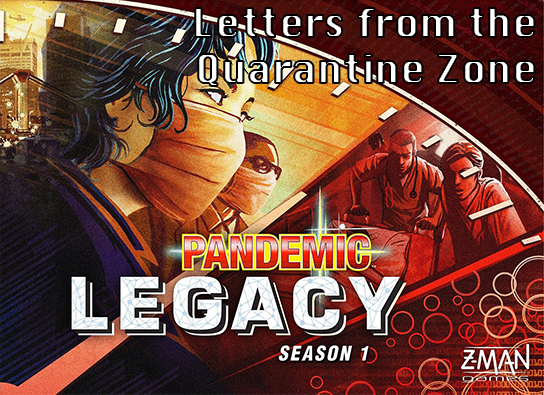 Spoiler Warning: Letters from the Quarantine Zone is a recap of a playthrough of the board game Pandemic Legacy (an After Action Report, if you will), retold in-character. Though the series does not directly acknowledge game mechanics or cards, it references their content, and the events from the game described within will result in spoilers. This is a work of fiction. You can read the entire series here.
March, 2016
Sigh. Another month, another crisis. On the bright side, the media has begun to follow our activities and has really trumpeted our accomplishments in 2016, especially in the face of our severe budget cutbacks. For me, the tragedy is in the cost. It all could've been avoided if only this Presidential administration would give the Centers for Disease Control the funds we need.
In many ways, we've crossed a Rubicon. The CDC is no longer simply fighting disease; we're now fighting public perception. First, we have added Essen to the ranks of panicked cities. Worse, we've got riots beginning in Osaka. Riots! In Japan! The CDC isn't equipped to handle riots; we're a civilian organization. We specialize in epidemiology and public health, not politics. This struggle has grown irrevocably political, and we are poorly equipped to handle it.