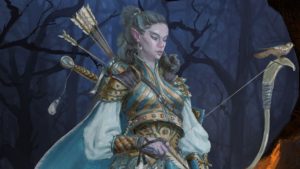 This week, Wizards of the Coast released the much-awaited The Ranger, Revised Unearthed Arcana, in which they took the first pass at a truly redesigned Ranger class. In previous Unearthed Arcana editions, they proposed new archetypes to mixed reception, but this one is actually a rebuild from level 1 to 20, with three subclasses: the Hunter Conclave, the Beast Conclave, and the Deep Stalker Conclave.
Full disclosure: I'm a Ranger critic. As we discussed on Total Party Thrill #18, I love the concept of the Ranger class in Dungeons & Dragons, but I've been disappointed with its implementation in 5th Edition. As printed in the Player's Handbook, the Ranger is a total mess; it's the weakest of the martial classes in combat, it lacks a niche, and its class-defining abilities are either useless, overshadowed by other classes, or simply less fun in practice than they should be. The Fighter has both trickiness and brute force in combat, the Paladin has better burst damage and party buffs, the Barbarian tanks, the Rogue dominates the Exploration pillar with its Expertise, and the Druid has identical-or-better wilderness and animal handling capabilities. The last hope for the Ranger, his last One Cool Thing, is the animal companion. It's only available to one subclass, and it happens to be the single worst class in the game by a longshot.
In short, this revision is overdue. Let's break it down, ability by ability.